Tuesday, September 18th, 2012
Quest for Glory IV: Shadows of Darkness will always be my favorite game of the series.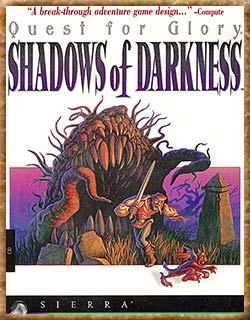 Halloween is my favorite season of the year. While I'm not a big horror fan, I do love the spooky, eerie, creepiness of a well-told ghost story. I grew up reading Poe, Saki, Lovecraft, and Stoker. We were inspired by films like Dracula and Frankenstein. Young Frankenstein by Mel Brooks and "Abbott and Costello meet Frankenstein" showed us how funny horror can be.
I wanted Shadows of Darkness to be full of tricks and treats just like Halloween.
However, when I started to write this series about the women of Quest for Glory, I had thought that Shadows of Darkness would be pretty far down on the list when it came to having strong women. After all, it only really had one woman, and she was the villain.
Silly me. No, now that I think about it, the game really is about two very strong women. Or possibly about three… or four… And it tells the story of several more.
I had thought that Shadows of Darkness was all about Halloween.
It's really a story of love and redemption.
Damsels in Distress Yet Again
There are many damsels in distress in this game. There are many men in distress, too. There's even a Domovoi in distress. You could say the entire game is about people living in the shadows of fear and hopelessness. It's up to the Hero to bring some light into this world.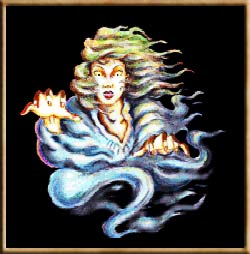 Anna is a ghost who doesn't know that she is dead. The Hero has to reunite her with her beloved Nikolai to free both their souls.
The shopkeeper misses her missing husband. The Hero has to listen to her and her husband complaining about one another. Then the Hero helps them realize that they still love each another.
And that's just part of the story…
The lady in the lake is spending her afterlife avenging herself for the wrong that someone else did to her.
The innkeeper's wife is in distress because everyone believes that her daughter is dead, but she is unwilling to accept that her child is gone forever.
A small child misses her mommy and daddy.
A loving and powerful Wizard is trapped in the chaos between worlds.
All in all, Mordavia really isn't a very happy place to be.
The Hunger Game
The one powerful female in the game who isn't in distress is Baba Yaga. She came here to get away from the embarrassment of being turned into a frog by her own spell.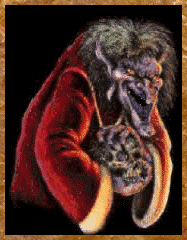 However, when the Hero comes walking into her hut again after all the grief he caused her, she doesn't just serve the Hero with some fava beans and a nice Chianti. She talks to him a little before she decides to serve her vengeance cold with some eye scream. She chooses instead to make a deal with him, which involves something suitably yummy to her admittedly eclectic taste.
It's clear that the way to Baba's heart is through her stomach.
Leader of the Pack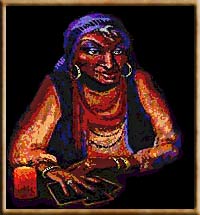 The Gypsy Leader, Magda, doesn't need rescuing, but her son does. Gypsy Davy is accused by the superstitious villagers of being a werewolf and eating Igor, the gravedigger. Once the Hero rescues Igor from his untimely grave and thus proves that Gypsy Davy is innocent, the Gypsies will accept the Hero as a friend.
Foolish villagers – the Gypsies aren't Werewolves. Werewolves are cursed. The Gypsies are Shapechangers. They don't have to wait for a full moon to turn into a wolf. These shapechangers do not turn into mindless beasts. They have no interest in eating dirty, smelly gravediggers.
They also have a matriarchy ruled by an Alpha female who can tell the future with tarot cards.
Magda is nobody's bitch.
Lady in the Lake
Many of the creatures who populate Mordavia were pulled from Slavic Folklore. The Rusalka is one such creature.
The Rusalka, Elyssa, doesn't pull men to their watery graves because she hates men. Elyssa became a Rusalka because that's the sort of curse you get stuck with when your untrue lover drowns you in a magical lake because you didn't put out.
Any Hero can befriend Elyssa, but only the Paladin can set her soul free by breaking the bond between her spirit and that of her murderer. Then the Paladin has to show her what it means to be kind and loving by kissing her cold, clay lips. Only then can the curse be broken and Elyssa's soul go to her rest.
Faerie Dust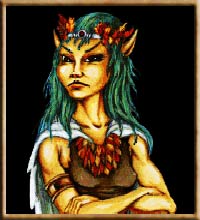 The Magic User is the Hero who meets the Faerie Queen. She's come to Mordavia in order to claim the staff of Erana that protects the town. However, she is thwarted because it will take a great sacrifice to take the staff. Unfortunately, none of her minions is willing to make the sacrifice so that the Faerie Queen can take Erana's staff.
So the Faerie Queen does what most villainesses in QfG do – She gets the Hero to claim the staff for her.
We've met Faeries in the very first game of the series. Zara showed the same sort of arrogance and disdain for humans that the Faerie Queen shows here.
The Faerie Queen doesn't care who gets sacrificed or betrayed so that she can get what she wants. She's too arrogant and powerful to let the Hero keep the staff. She intends to deceive and kill the Magic-User to get Erana's Staff.
The Faerie Queen, like so many other villains, is too full of her own sense of power and importance to think for a moment that a mere human could defeat her.
The Magic-User proves just how wrong she was. Being the one actually wielding the powerful magical staff of Erana doesn't hurt.
Child of Darkness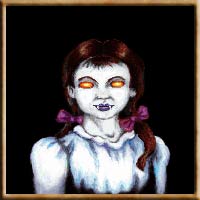 Tanya is the real victim of this story. Love is the cause of her plight and love is her savior. She was a loving child who was overprotected by her loving mother. She was imprisoned in the inn to protect her from unknown dangers.
Somehow, Tanya attracted the attention of the Dark Master, Katrina. Katrina had her pet monster Toby rescue/kidnap Tanya from the inn. Then Katrina gave Tanya the gift of eternal youth – through death and "rebirth" as a Vampire. Katrina adopted Tanya as the daughter she had always wanted. Katrina and Toby truly loved Tanya in their own ways.
But Tanya never forgot her human mommy and daddy.
It's up to the Hero to rescue Tanya from the castle. It is Toby, though, who allows himself to be sacrificed to bring Tanya back to life. It is Toby's love for Tanya that saves her from Undeath.
Yes, Tanya is restored to her loving parents.
However, the Hero deeply hurt Katrina by doing so. She considers him responsible for Toby's death and the loss of Katrina's "adopted daughter", Tanya.
Love Bites
So yes, Shadows of Darkness is where Slavic Folklore meets H.P. Lovecraft. It's about Vampires, Ghosts, Undead, and Mad Scientists. It's about deceit, betrayal, and death. It's about superstition and prejudice.
But most of all, Shadows of Darkness is about Love – The love of Power and the power of Love.
---
There are two more women who are at the very center of Shadows of Darkness. I will write more about Katrina and Erana next week.