Wednesday, January 14th, 2009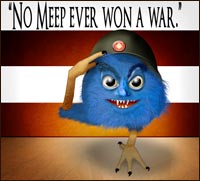 On the surface, the brash, straight-forward Warrior seems like the easiest and most obvious character class to define. Examples of great Warriors abound – Genghis Khan, Caesar, Conan, Wolverine, Hagar the Horrible, Patton, Leonidas, and many others. (Okay, so some of these are greater than others.) We all know what a Warrior is and does…
Or do we?
When we think of a Warrior, it might be one of several images – the plate-armored "human tank," the wild-eyed berserker, the big, dumb, fighter, or the calm strategist. Each serves an important role in battle, and each is a very different archetype. Here at the School, when we say Warrior, we mean Leader.
If you took the Hero Test and became a Warrior, you would rather do something than sit around. You crave excitement and adventure. You are decisive. Other people respect that and look to you for decisions and answers when the going gets tough. Our great Warrior heroes need the judgment of Right and Wrong and the heart and soul to choose the Right.
Leadership
Back in October, we wrote an article called Tribal Lore about a book called Tribes: We need you to lead us by Seth Godin. The concepts are powerful for everyone, but Warriors especially should read the article and consider getting the book.
Seth says, "The first thing you need to know is that individuals have far more power than ever before in history." You don't need a title to be a leader. You just have to be passionate about an idea and willing to do the work to help it spread.
Creating and sustaining a tribe is about leadership. More than any other class, the Warriors have the decisiveness, the vision, and the passion to be leaders.
No Substitute for Hard Work
The Warrior class may have some of the most difficult and challenging assignments in The School for Heroes. That's because Warriors thrive on challenge and they know how to overcome obstacles. They don't think their way around it like the Wizards, and they don't sneak past it the way a Rogue might.
To a Warrior, finding a way around an obstacle is avoidance. They aren't afraid of hard work when the goal is worthwhile.
Warriors see a problem, face it, and overcome it. They know that a challenge postponed is ten times harder than one handled immediately.
How was the Great Wall of China built? Step by step and brick by brick. If a task seems overwhelming, the Warrior breaks it down into manageable pieces, makes a plan, and starts working on it one piece at a time. If the project is too big for one Hero, the Warrior delegates, leads, and finds the people to get the job done.
Are Warriors the Best of the Best, or What?
Warriors in the School are pretty hot stuff. They're confident, healthy, decisive, and charismatic. Nobody's perfect though. It's easy to go from "decisive" to "reckless." Warriors sometimes act without having all the data they need to succeed. Somewhere along the line, a successful Warrior needs to learn control and balance as well as authority and power.
One of the most important parts of the Warrior curriculum is learning how to lead. Warriors are natural leaders because other people tend to follow the one who has a plan. However, to stay a leader, Warriors need to learn to listen, to compromise, and above all, to keep going when times are tough.
We might not succeed at every plan, but failure makes us stronger. Some of the greatest successes in history have come after equally spectacular failures. Be willing to be wrong, and be willing to adapt when the first try fails. Nike had a slogan, "Second place is the first loser." We hate that saying, but that message is different to a Warrior than to other people. Here's what it says to a Warrior:
"Second place is the best motivation to win the next time."
Learn from your failures and grow. Maybe you just need a little more work, and a little better plan, to be a winner. Second place is pretty damn good, but being a Warrior is about becoming the best. Cherish your seconds and thirds, then do what it takes to become first.
"Never give up, never surrender, full speed ahead." – Galaxy Quest
We don't make it easy on our Warriors. One of the first Warrior assignments is to create a daily workout regimen and report on their progress after a week of following it. No other class gets a rank 1 assignment that they have to spend at least a week on before they can report it as done. It can be very easy for a new Warrior to look at the assignments, think "This is too hard," and give up.
Give up? Even think about giving up? That's no Warrior attitude! If they assignments are tough, that's because we know you're tougher! By working through them, you will become stronger.
And we need your strength. We need Warriors to help lead us into the future. More importantly, the world needs Warrior Heroes who lead with a conscience. Be that leader. Be a Warrior!