Thursday, October 23rd, 2008
"There are nine and sixty ways of constructing tribal lays, and every single one of them is right!" – Rudyard Kipling, "In the Neolithic Age"
We recently read a book called "Tribes," by Seth Godin. Seth is a bestselling author of books on marketing and copy-writing. His latest book is all about leadership and forming what he calls "tribes" of people with a common interest. "Tribes" has some great ideas and is well worth reading. It is also very relevant to The School for Heroes.
A Brave New World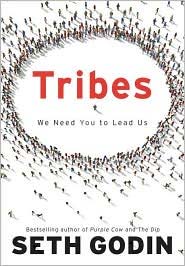 What is a tribe? It is any group of people with a common interest who get together to do something about it. It could be a company, a club, or a Web site. It's the whole "If you build it, they will come." idea from the film "Field of Dreams." Successful tribes are those where people care about that common interest (let's call it "the vision") and work towards goals that support the vision. Tribes are about communication and cooperation between the members, not about orders handed down as commandments from on high nor about directionless chaos. Directed chaos is fine.
The thing is, for a tribe to be successful, it needs a leader (or leaders). A leader holds the vision and finds ways to share it and to bring the tribe together. A leader does not need to be the "person in charge." He or she is a facilitator and a communicator. Great leaders are often rebels who buck the system to come up with innovative solutions to problems.
In "old school" organizations, position matters. The rank and file members do not innovate; they do what they're told. From personal experience we can tell you that computer games created under the leadership principle come out much better than those dictated by management. We've worked on both kinds.
The Tribe for Heroes
The School for Heroes is a tribe. There will eventually be an adventure game with the same title, and we hope you'll enjoy it, but the game is secondary. What matters is the tribe – Empowering people like you to live your lives as heroes. Of course, you've always had the power, but the school web site will give you more. It will make you part of a community of other people who care. It will give you a support network to keep you on track and it will give you an opportunity to support and lead others with the same goals.
We can't make the world a better place by waving a magic wand and saying, "Let's make the world a better place!" Heroism takes work. It takes commitment. It takes caring and sharing the glory and the pain. We aren't going to try to pass down the wisdom of Solomon and tell you how to accomplish great things; it wouldn't stick and we'd probably get it wrong as often as we got it right.
What we will do instead will be to plant the seeds of a few ideas and set up an environment where you can work with them, provide your own, and share the results with others. Together we can build the Tribe of Student Heroes, and if we get it right, then others will find us. We are using the metaphor of the school, but this is one in which the teachers will learn from the students just as much as the other way around.
Intentsive Hero Training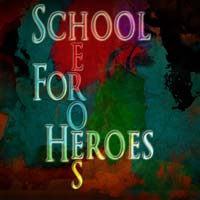 On October 31st, The School for Heroes will open its doors to a few select seekers. The School will feature the "What Kind of Hero Are You?" test, a page about each of the "classes" – Warrior, Wizard, Paladin, Rogue, and Bard – a personal page for each student, and discussion forums. There might even be a few class assignments – this is a school, after all.
However, this won't be a school like any you've ever attended. Nobody will force you to do your homework. You get to choose the assigments you are passionate about. But each one you complete will help you to understand yourself and discover your personal path to heroism.
The School forums will be set up for everyone to share what they learn and do. Small step by small step, we will make the world a better place… by leading, by doing things that matter, and by making ourselves into better people. Most importantly, we'll all have a lot of fun doing it.
Chief Beliefs
"The secret of leadership is simple: Do what you believe in. Paint a picture of the future. Go there. People will follow." – Seth Godin, "Tribes"
That is what we are trying to do with The School for Heroes. We hope you will choose to follow us and then become leaders for those who are to come. We challenge you to take the "What Kind of Hero Are You?" test, sign up for the school, complete your first "mission," and share the site with others. With your help, The School for Heroes can become a tribe that matters.