Monday, June 21st, 2010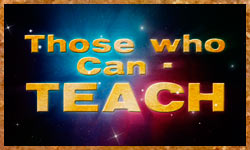 Teachers rarely get much respect. The old joke goes, "Those who can, do. Those who can't, teach." I think that is backwards. Maybe it should read, "Those who can, do. Those who can and care, teach."
You have heard the proverb, "Give a man a fish and he will eat for a day. Teach a man to fish and he will eat for the rest of his life." Teaching a subject multiplies its value by the number of people taught, or by many more as they go on to teach it to others. If you care about something, don't just do it. Teach it!
Moving Young Minds with a Mockingbird
I was inspired by this BBC News article on To Kill A Mockingbird, by Harper Lee. I haven't read the whole book yet; I've just started reading it because of the article. Lori tells me Mockingbird was one of the most influential books she read as a child, and we still have her copy.
What really impressed me was the tale of the English teacher, Garry Burnett, as described in that BBC article. Mr. Burnett was so inspired by the book that he started a Mockingbird Festival in Hull, England. The week-long festival "was attended by actors from the… film adaptation…" according to the article.
Wait a second. A schoolteacher got American film actors to attend his school festival in England? That was a pretty extraordinary feat. Mr. Burnett cared about Harper Lee's book, and he took action to share his passion with others.
Did Mr. Burnett spend a few weeks lecturing about To Kill a Mockingbird and explaining why it is an important book? No. He went far beyond the requirements of his job and inspired his students. He took some of them thousands of miles to visit the author's home. He created an annual week-long festival to encourage young people to explore the book's themes in depth. And just this week, his influence was extended worldwide by a BBC News correspondent, and I am reading that book as a result.
"Give me a lever long enough and a fulcrum on which to place it, and I can move the world." – Archimedes
What can one hero do in this age of mass communication? If he knows how to teach, one man can move the world.
Great Teachers Change Lives
We've all had good and bad teachers, some more memorable than others. Two who influenced my life were Mr. Herman (6th grade) and Mr. Cross (8th grade math.) in Abington, Pennsylvania. Some students considered both of them "mean" or tough, but to me they were inspirational. Without their influence, I might not have met Lori, and I probably would never have become a game author. I certainly would not be writing this blog today.
Mr. Cross introduced me to probability theory. That foray into "recreational mathematics" was one of the influences that later led me to major in mathematics at UCSB. I do not know if I would have become a computer programmer without that early push.
Mr. Herman ran his 6th grade class as a competition; students raced to complete math problems on the board, worked in pairs to practice spelling, and so on. He did not believe in mass-market teaching. If you finished your problems early, he kept you busy with "extra credit" assignments.
Since I was good at spelling, Mr. Herman had me go through an advanced SRA self-study program in reading and vocabulary. When I finished that, he assigned me a College-level spelling workbook. Finally, I got a week or two of free periods during spelling at the end of the school year. Mr. Herman taught me that there is no limit to learning, that study – and even spelling – can be fun. I didn't know at the time how important that extra work would become. They don't teach spelling in American schools after 6th grade, so that was my last chance to learn a skill that has been important to me throughout my life.
Communication is Key
My mentor at UCSB, Professor Max Weiss, liked to tell this story: "You can be the greatest problem solver of all time, but if you can't share your discoveries with others, your work is worthless. A successful proof is one that can be communicated and reviewed by your peers." In other words, mathematics is about teaching as much as discovery. If you can't or choose not to teach what you have learned, the knowledge will soon be lost.
Today I read an AP news report about a Los Angeles 8th grade math teacher who had a problem. Fresh out of college two years ago, Lamar Queen heard his students say that his class was boring. They joked that it would be more fun if he taught in rap… not knowing that he had performed rap in high school and college. Lamar started teaching his lessons in rap, and the students listened and learned. Queen has "won a national award and shows teachers and parents how to use rap to reach children." He now hopes to "make rap math a business", creating a web site to expand the use of rap in education. That's communication on two levels – with the students and with the wider world.
Help Create Heroes
The School for Heroes is our small attempt to spread some of the lessons about heroism that we began with Quest for Glory. Our audience is much smaller, but the interaction is much more personalized than we were able to achieve in the games.
We aren't alone in this. Scott Farrell runs the highly-recommended Chivalry Today web site (http://chivalrytoday.com/. Scott, also known as "Sir Guillaume" in the SCA, started promoting his message of the importance of chivalry as a Knight (and now Duke) in the SCA. Since then, he has made teaching the art of chivalry into a passion. Besides the web site, he visits San Diego area schools to teach the lost art of chivalry. He also runs a Summer camp where students learn martial arts and the principles of heroism.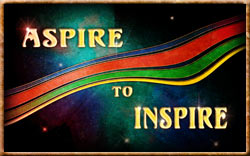 You can be a part of the movement too. We all have skills, knowledge, and ideas that we can teach. The difference between a mere "doer" who affects a few nearby people and a teacher who affects dozens, hundreds, or millions is one of commitment. Do you have something valuable to teach? We think you do. Will you accept the commitment to share what you know? It isn't really that hard. Start by writing an article for the Ars Heroica or by posting on the site of your choice.
When you see someone post a message you find valuable, help share it. Spend a few minutes commenting on their work. Post a link on another site. At first only a few people may see it, but if just a few of us help promote worthwhile messages, the word will spread. The ideals of heroism and chivalry can go viral, and then we will be teaching the world. It is up to each of us to care enough to make that dream become real. Be a part of the dream.