Wednesday, December 29th, 2010
It is traditional at this time of year to look back and recall the events of the last year. I prefer to look forward. What would we like to happen in the upcoming year? And what can we do to help make these things happen?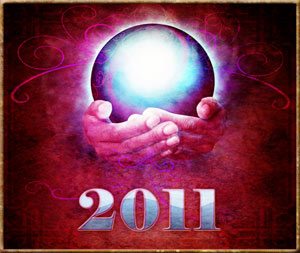 In a previous article, we talked about "New Year's Commitments" instead of Resolutions. This time, maybe we can raise the stakes. Instead of committing to some small change in your own life, why not commit to something that will help change the world?
Part of making a commitment is visualizing the result of committing to it. When we put that into the time frame of "What shall I accomplish this year?" that means we need to visualize what will happen in 2011. Instead of reviewing the previous year, we can preview the upcoming year! So get out your notebook and your crystal ball and look at what 2011 could be.
Consumers vs. Creators
The future is what we make of it. The problem is that collective word "we". Most of us think it really means "they", because there are a lot of "them" and only one "me". But that's an illusion.
Most of "them" do very little to create the future. "They" watch, consume, and occasionally criticize. The average person's creativity is limited to linking a cute picture or fun YouTube video to their friends. There is a world of difference between a Beatles fan and The Beatles or even a garage band that occasionally puts on a show.
It's the difference between consuming and creating. Consumption has some value – It rewards the creators so that they can continue creating. It can also be a stepping stone – a gateway drug if you will – towards creation. You may start by copying someone else's music or drawing, then using what you've learned to compose your own songs or making your own art.
There is a serious challenge to becoming a Maker. It takes work. It takes a lot of practice, hard work, and the discipline to channel that work into learning, improving, and creating. And that is why each of us who is willing to do that work has much more impact on the future than the masses of lazy people and rote followers.
We > They
There is another way to make our "we" into something much bigger than each individual "me". That way is to reach out and enroll others in your creative vision. Do you have a project in mind that is just too big for you to handle by yourself? Don't let that stop you!
Start by building something, a prototype or a plan. Get it down on paper or a model. Then show it to other people you respect, people who show more than a glimmer of being Makers themselves. Share your vision in a way that involves them and makes them want to become part of it. There is a "me" in "team" – Someone needs to start and inspire the team to work in a coordinated way. If you care enough and put in the work to create, you can be that "me" who matters.
When "we" are a group of people who work together to create, we have far more impact than millions of "they" who just want to consume. The creators and producers move the world; everyone else just rides on it.
Happy New Year!
When you're making your commitments for 2011, think about what really makes you happy. Sure, there is joy in listening to great music… but isn't it even more fun when you're dancing or singing along? That's action and participation, not just consuming.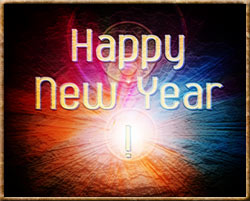 Would you rather spend your hours reading books and playing computer games… or getting out there and writing your own? You probably can't waltz into Blizzard and say, "I am ze greatest game designer in ze world, and I shall create your next masterpiece!" In fact, neither can I. But you can start in that direction.
Write a blog. Practice drawing or painting. Write a poem or a song. Learn to program and create a simple game or toy. Study carpentry and build a dog house or a storage shed. Get out there and do something with your life. Learn, practice, apply, and create. It isn't for the benefit of all those consumers, but for yourself – Learning, growing, and doing are fun!
Have a happy new year, and may this be the year when you discover a new, powerful, creative you.