Wednesday, December 31st, 2008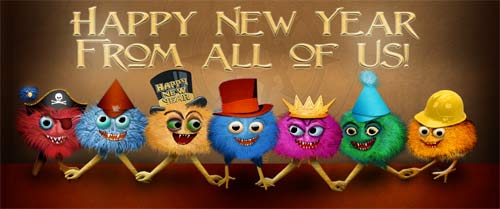 New Year's Eve, a time notorious for two things – wild drunken parties and futile resolutions that are soon broken.
Most people make a New Year's Resolution to fix mistakes made in the old year. So should we start off the New Year by thinking of all our flaws and the things we need to do better? That's about as useful and enjoyable as a New Year's Day hangover – or a drunken Meep.
Instead of concentrating upon how many pounds of fat we need to lose or promising ourselves that we will catch the Gremlins before they get into the computer system again, let's try something different. Don't dwell on past mistakes and try to fix them with depressing New Year's Resolutions. This time. let's focus on a better future with – ta-da! – New Year Commitments.

Um, So What's the Difference?
Resolutions focus on what we Need to do – Commitments focus on what we Want to do. Here is a list of our New Year's Commitments:
Every Day an Adventure
Life is a Journey
Git'er Done
Time Enough for Love
It Had to be You
Every Day an Adventure
What are you doing today that you have never done before? What have you learned that you never knew? What are you doing differently?
This is a commitment Lori made a long time ago, but it's always good to re-assert older promises and keep them on track. This one is all about treating each day as an opportunity for exploration and growth.
Life is A Journey – So Where are We Going?
You can't get where you want to go if you don't know where you are going. We need to set goals for ourselves. We need to make our own roadmap to the future. If we don't, the future will be here before we know it and we'll be run over by it.
Git'er Done
As semi-professional Procrastinators, this one is a hard one for us. We're experts of thinking of all the things we need to do, getting overwhelmed by them, and then going on to do something else. However, to take a tip from David Allen's "Getting Things Done" book – if it takes less than two minutes to do – Just Do It! Okay, so Corey says nothing gets done in two minutes, so we'll stretch it to ten. The point is that putting things off is actually harder than getting things done. The weight of every task put off is the equivalent of carrying around a sack of five Meeps – five struggling Meeps.
Time Enough for Love
In Heinlein's book, "Time Enough for Love", Lazurus Long recounts his life and loves of 2300 years. We don't all have 2300 years (and neither did Heinlein) so we have to remember every day to think about the people you love. Hug your mate… or your parents. Let them know you care. Do some small thing they'll appreciate. Got a dog? How about taking it for a romp in the yard. Got a cat? How about taking time to give it a skritch under the chin or a string dragged across a floor? Stuck at work? Help someone else with their job. Invite a co-worker to join you for lunch. After all, Love is a tower built from the sum of all the happiness you have with others. Go ahead and build it higher – Just make sure you invite your loved ones to share it with you.
It Had to Be You
You are the one stuck with living your own life. Don't let it all slip past you as you drift along through your day to day routines. Take time every day to do the things you love to do. Take the time to do the things you want to do. Take the time to do the things you know you need to do. Nobody else is going to do them for you.

Commitments for a Better New Year
None of these Commitments are life-altering or even mind-altering. These are the sort of things we can all do automatically as part of our habits of Heroism. We need the bricks and mortar of new ideas, vision, dedication, love, and joy to build a better future. So from all of us here at the School for Heroes – Happy New Year!"