Friday, July 4th, 2008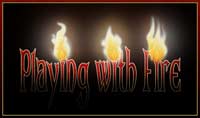 Well, it's Independence Day, more commonly known as the Fourth of July, here in the United States. It's a time for fireworks and fun, hot dogs and burgers on buns, and terrible puns on the blog. We hope you'll get a char-ge out of this and that we haven't made ashes of our shelves.
When you're hot, you're hot, and we're really fired up about this hot topic. So here's a warm welcome to you all – we're here to fan the flames of fandom for our Interactive Fiction.
Unfortunately, just last week, our hot dog, Zeus, was barking up a storm – a thunderstorm. It seems his namesake was tossing lightning and thunderbolts all around us. Where there's smoke, there's fire, and it was "Fire on the Mountain" "Smoke on the Water," and "Dust in the Wind." It was a hot time in the old town that night.
Corey of course sought to chill out in the World of Warcraft. The hot event there is the Midsummer Festival, where feeding fire spirits and throwing torches helped to light up the Summer skies. It certainly sparked his interest for a while.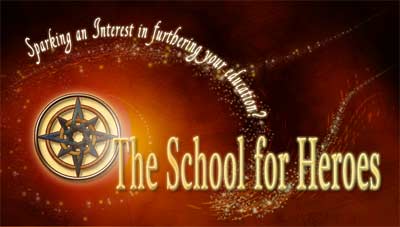 Meanwhile Lori was filled with a burning desire to blaze some trails with new artwork for the upcoming School for Heroes web site. She designed blazons (coats of arms) for the four – or is it five? 😉 – classes in the hero school. Only the mages get to play with fire, but Corey thinks all the designs are cool. Lori has also been burning the midnight oil creating other hot stuff for the Hero School site.
First, of course, we have to survive the baptism by fire that's involved in learning a new game system, designing five games in one, and building a community on TheSchoolForHeroes.com web site. We're already burning the candle at both ends making the game sizzle. It will take a lot of slow cooking to make the game sparkle before we're ready to burn the final disks.
On a lighter note, have a happy Fourth of July, and hopefully when it comes to our game – you're fired. (Up, that is…) Just don't flame us or rake us over the hot Coles.