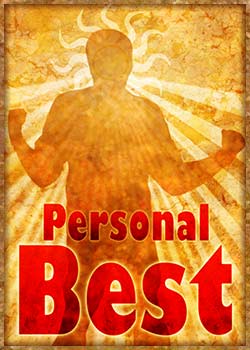 The Winter Olympics are among the few sporting events I make a point of watching. Since I don't have a TV, I was able to catch all of the action on the internet. To me, the Olympics are about much more than gold, silver, and bronze medals. The Olympics are a chance for each of the athletes to step out on the biggest stage of their careers and try to put on the best performance of which they are capable.
So I was very happy this year listening to the commentators on various performances, because they focused on what really matters to these competitors. Time and again I heard them announce a score, then say, "That was a personal best," or "That was her highest score this season." Only one person or team can win an event, but all of the competitors have the chance to transcend themselves when it most matters. They have that one chance to show the world their personal best.
One Moment in Time
"Give me one moment in time, When I'm more than I thought I could be, When all of my dreams are a heartbeat away, and the answers are all up to me."
Whitney Houston performed the theme song for the 1988 Summer Olympics, "One Moment in Time," by Albert Hammond and John Bettis. All of the quotes in this blog are from that song; I still can't listen to it, or even read it aloud, without tearing up with emotion. When I find myself being ordinary, or lazy, or not giving 100% to a task, I try to remind myself that I could be wasting the one moment in time where I had a chance to excel.
Much of life seems to come down to a few defining moments. We remember the truly special "bits" from feature films and from our own lives. It might be a few lines of dialogue, or the moment when you fell in love, or a few seconds when disaster struck. Those few moments are the ones where we go beyond our daily patterns and rituals to be part of something extraordinary. And those are the moments – good or bad – we most remember.
No Pain, No Gain
"I broke my heart, fought every gain, to taste the sweet, I face the pain."
Nike sold a lot of shoes with their slogan, "Second place is the first loser," but I think that's a… well, loser philosophy. If you don't win, you've failed. And failure is devastating. Or is it? Maybe there's another way of looking at the notions of success and failure.
I've written before about Carol Dweck's book, "Mindset: The New Psychology of Success," in which she talks about fixed and growth mindsets. A person with a fixed mindset thinks that they are either talented or not, and that no amount of work will change that. Those with the growth mindset see each challenge as an opportunity to grow, learn and improve.
For people with the growth mindset, being the first loser is a stimulus. Those athletes will recommit themselves to the hard work, practice, and study that they need to improve. At the Vancouver Winter Olympics, I saw countless examples of athletes dedicated to the growth mindset. When Apolo Ohno was disqualified in one of his last races, he said, "I guess I just need to skate faster." Ohno is the most decorated athlete in Winter Olympics history with eight medals, but he knows that he needs to keep working and keep improving to stay one of the best.
The Best to Be
Each day I live, I want to be
A day to give the best of me
I remember watching previous Olympic skating competitions and seeing skater after skater fall during their programs. Some of them became contests of making the fewest errors. This year was different; there were some minor errors, but few falls that I saw. The results were based on difficulty, skill, and beauty of the performances rather than on who survived.
I particularly liked the attitude of Mirai Nagasu of the U.S. In her short program, she attempted a triple lutz / triple toe loop combination, but ended up doing a triple-double instead. When asked about that after the performance, Mirai stated, "I think I made a wise choice." She knew that she didn't have the speed to pull off the second triple jump, so she downgraded it and went on with her performance… beautifully. Many skaters in the past would become so upset at failing one part of their skate that it affected everything else. This year, the skaters seemed immune to self-doubt; if they made a mistake, they made sure they skated everything else perfectly.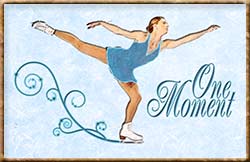 When Mirai completed her long program and moved up to fifth place, she seemed as delighted as if she had won the entire competition. Her object at this – her first Olympics – was to skate the best she could and let people know that she is the future of figure skating. She certainly did that with a personal best score. Mirai Nagasu did not need to stand on the award podium to be a winner – She was the fifth winner, not the fourth loser, in that event.
Figure skating has always been an event in which who you are matters as much as what you do. In that sense, Mirai might not have had any chance to win the gold medal. But she came to Vancouver to show what she can do, to gain some recognition in the eyes of the judges and the audience, and to experience the thrill and the pressure of top-flight competition. She succeeded in all of those.
And, by the way, the event winners all deserved their places on the podium. Their performances were fantastic – Kim Yu-Na flawless, Mao Asada successfully doing the first three triple axel jumps in women's Olympic competition, and Joannie Rochette of Canada skating a beautiful, sultry program that was both artistic and athletic.
Speaking of pain, Joannie's performance was all the more remarkable in that many competitors might have cancelled their entry. Her mother passed away from a sudden heart attack just two days before Joannie's first program at Vancouver. Rochette considered dropping out, but said, "All my life, my mother wanted me to compete in the Olympics. She was a very tough woman, and taught me to be tough." Instead of giving up, Joannie Rochette performed in her mother's honor and did so magnificently. She found a way to channel her sadness and turn it into two strong, joyful performances.
No Time for Less
"I've lived to be the very best, I want it all, no time for less."
Shaun White came into the Olympics as the favorite to win the halfpipe snowboarding competition, and he came prepared to win. In an interview, he talked about the many times he fell while practicing his tricks for the event. Snowboarding is scored on the best of two runs. Shaun fell during his second qualifying run, but it didn't matter since he had the highest score of all competitors on his first run. In the final, his first run again beat both runs of every other competitor, so he didn't even have to complete his second run.
So how did he react? Did he back off and do a relaxed, casual victory lap in his final run? Not at all. Shaun White came to Vancouver to show that he was the best – and the hardest worker – at his sport. In his final run, Shaun did a 3-1/2 revolution – 1260 degree – stunt that no other snowboarder has even attempted. He did it perfectly, but that's almost beside the point. White showed what he can do under Olympic competition pressure, his fall in the preliminaries completely forgotten.
What about you? Are you willing to settle for second best? Somewhere back in the pack? Those might be realistic short-term goals as long as you treat every race as a chance to do better, to extend your personal best. The lesson I see in top competitors in every game and sport is that they keep coming back. Whether they win, place, or fail in a particular competition, they keep coming back, and they keep trying to improve. Yes, even the winners consider their victories to be just one more milestone. They want to do even better the next time and to win more often than anyone else. Winner, bronze medalist, or back in the pack – They know that there is always more to learn and more chances to grow, improve, and excel.
Winner for a Lifetime
"You're a winner for a lifetime, If you seize that one moment in time; Make it shine."
In the end, it is not whether you win or lose, nor whether you come home with a medal or empty-handed. Each moment in time is defined by whether you can show the world your Personal Best. Few of us have the opportunity to perform in the Olympics, but we all have many opportunities to put on the performance of our lives and to find the best within ourselves.
Are you up for the challenge? It lasts a lifetime.
"Then in that one moment in time, I will be free."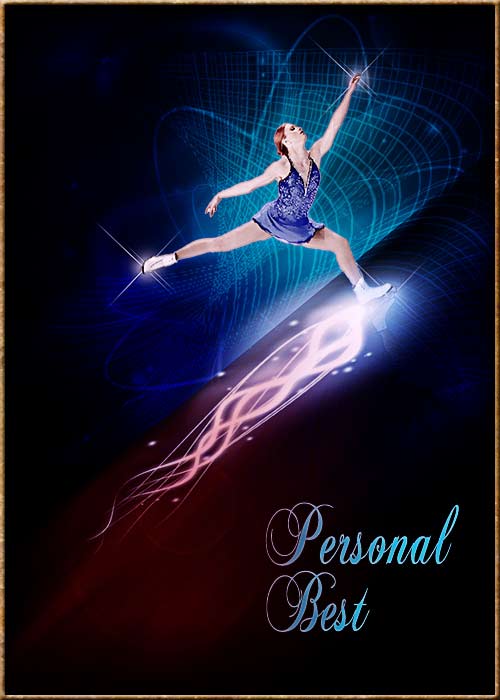 Similar Posts:
Tags: Life Advice, Mindset, Winter Olympics

Share on Twitter