This Sunday is Easter, a time of symbols and traditions. It's Springtime, and Easter represents hope, new life, fertility, and rebirth. Kids get a few days off school, and families get together to feast and celebrate the joy of life.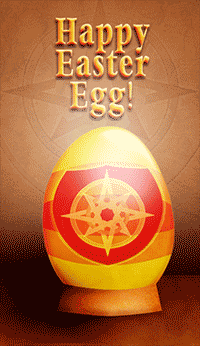 As far as children are concerned, the most important traditions of Easter involve chocolate, candy, and a bright pink or yellow Easter Bunny. People decorate colorful hard-boiled eggs which are then hidden about the house and yard by the Easter Bunny (cunningly impersonated by game-loving parents). On Easter Day, the kids scurry around trying to find and collect the eggs. A few eggs were usually hidden too cleverly. The real surprise came from finding these hidden eggs the following Easter. So these days most wise parents substitute hollow plastic eggs with a few jelly beans or chocolate coins inside. Easter is obviously sponsored by the dental industry.
Un-Egg-Spected Surprises
Game Developers like to hide Easter Eggs, too, but they do it in their games. An Easter Egg is a hidden character, place, or event in a game that seems a little odd, hopefully in a humorous way. They can be references to pop culture, history, other games, etc. Sometimes they open additional game play ("secret levels"), but more often they are just there as a reward for observant players.
While Easter Eggs can be distracting, they actually have an important role in improving the quality of a game. I like to describe the "intensity graph" of a game as looking like a roller coaster. The action and intensity build to a peak, then drop down to a more relaxed level before starting to build again. The "low points" of intensity provide contrast for the high points. Without them, a game becomes stressful and less fun. Also, the highs seem higher when there are lows against which to contrast them. An all-action game or movie will not feel as intense as one that gives players/viewers a chance to relax a little between the action scenes. Easter Eggs provide that lull in the action.
Egging on the Clowns
Quest for Glory featured many Easter Eggs, including "mirages" in the desert such as the Persian Golfer (a reference to the Persian Gulf War), the Awful Waffle Walker, and a submarine that showed up in the lake near Spielburg. We also had cameo appearances by such luminaries as the Marx Brothers, Laurel and Hardy, and "Sanford and Son."
During the development of Trial by Fire, Brian Hughes mentioned that our menu system reminded him of the menus in productivity software such as VisiCalc (one of the early spreadsheet programs). These programs often contained disabled menu items intended for future enhancements, and he suggested that we could have a menu item that did absolutely nothing. Thus was born the "Silly Clowns" menu, originally a feature that had no game effect whatsoever.
We may have lost some of the purity of the idea, but probably made it more fun, when we decided that we could actually do something with a "Silly Clowns" mode. In the production version of Trial By Fire, Harpo Marx only makes his cameo appearance in the alleys of Shapeir when Silly Clowns is active. Some of the death messages have sillier versions too. Since these are totally useless changes, they keep the spirit of the useless menu option.
Brian was also responsible for the "Saurus Repair Shop" Easter Egg in Trial by Fire. This scene had to be cut from the original release because we ran out of disk space. However, AGDI contacted Brian and recreated it for their recent VGA version of the game. Saurus maintenance – not for the faint of heart.
One of the Sierra artists, Jerry Moore, was famous for slipping a Star Trek reference into every game on which he worked. For example, there is a miniature Starship Enterprise on the shelf of the magic shop in Quest for Glory II: Trial By Fire. Jerry also added the Maltese Falcon statuette to the treasure room at the end of Quest for Glory I: So You Want to Be a Hero.
At the time, this was purely an Easter Egg, but Lori decided it would make an interesting plot point for the rest of the series. We put a "black bird" in each game and added a Thief story thread inspired by the movie, "The Maltese Falcon". It started as an Easter Egg and became a MacGuffin (a plot point object).
Easter Eggs of Azeroth
World of Warcraft is full of Easter Eggs. "Critters" in WoW are small level 1-3 animals that are just there for atmosphere. While wandering through the Grizzly Peaks, I came across an odd group of critters. They were in a group consisting of a deer named "Mother of Bambina", a small fawn named Bambina, a rabbit named Thudder, and a skunk named Flower. The names are variations on characters from Disney animated films, and the reference could have stopped there, but…
Suddenly I heard a gunshot and saw Mother of Bambina fall. Off to the side appeared a dwarven hunter; I could imagine his gun still smoking. Bambina called out, "NOOOOOO! Mother, we will avenge you!" Then he ran to the hunter and stomped him flat in a single attack, after which the rest of the party wandered off. It's amazing what a level 1 critter can do to a level 75 hunter, given enough incentive and adrenaline.
There are dozens, hundreds – maybe thousands – of other pop culture references in World of Warcraft including an entire quest chain with character and object names from The Legend of Zelda video game series.
World of Warcraft also has the traditional type of "Easter Egg". Every year at Easter time (but running late this year), WoW features the Noble Garden festival, which includes having Easter Eggs hidden throughout Azeroth. Inside each egg is a small prize – a few coins, or sometimes a lovely Spring dress. The latter are rare and much sought-after by role-playing ladies and completists. Lori spent most of our first WoW Easter searching for eggs and slaying bandits with her Paladin in Westfall.
Speaking of eggs in Westfall, Alliance players can tame a chicken in Westfall by repeatedly doing a Chicken Dance around it. If they are willing to make themselves look completely ridiculous, they can earn the small reward of a special pet.
Egg-Qual Time
There are of course Easter Eggs in many other games besides World of Warcraft and Quest for Glory. We just don't play very many of them these days. Feel free to comment on this article with some of your favorite Easter Eggs from other games. Here are a few from older games:
Some Sierra games were best known for the many ways the character could die. LucasArt's Ron Gilbert thought that character death was bad storytelling, so the player character could not die in The Secret of Monkey Island. Except when he falls off a cliff, and a Sierra-style death message pops up: "Oh, no! You've really screwed up this time! Guess you'll have to start over! Hope you saved the game!" A few seconds later, the box disappears and Guybrush bounces back up onto the ledge. He looks towards the camera and explains, "Rubber tree."
In Wizardry: Proving Grounds of the Mad Overlord, the main villains are Trebor and Werdna. Try reading those names backwards, knowing that the game authors were Robert Woodhead and Andrew Greenberg.
During development of King's Quest IV, someone substituted a picture of Roberta Williams topless in a hot tub on the death message screen. The original image came from the cover of Leisure Suit Larry, but was touched up to "add a couple details". That image lasted almost until the final version, but Roberta made them take it out shortly before the game shipped. Alas.
Diablo is famous for the "Secret Cow Level". Fan rumors suggested that the original game had such a level, so Blizzard actually added one in Diablo II. You have to play through the entire game, then take a couple of special actions in town, to unlock a game level populated entirely by very aggressive cattle.
Have an Egg-Ceptional Easter!
This Easter, hide some fun for your young (or not-so-young) friends and share some Easter Gaming Goodness. And maybe you can help us find some of those lost eggs from earlier Easters.
So, What Easter Eggs have you found in computer games? We look forward to reading about your favorite game – and real life – Easter egg experiences in the comments.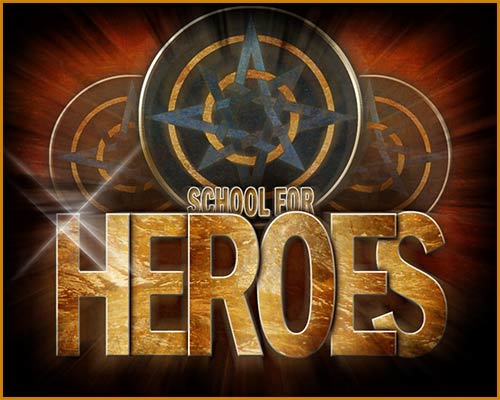 Similar Posts:
Tags: Game Design, Humor, Quest for Glory, World of Warcraft

Share on Twitter