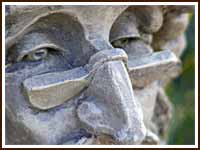 We're all students in life. I once said that the most important thing about my job was that I learned something new every day. When I stopped learning new things, it would be time to move on to something new. Well, here we are doing something new!
School for Heroes is a unique learning opportunity for both the players and ourselves. Every time we start developing a game for a different company, it's like going back to school. Each game developer has its own standards, style, and library of useful source code. Many use unique proprietary languages (as did Sierra On-Line) and the others use a Babel of languages and libraries. Corey is building School for Heroes with the Inform language, one of a dozen or more computer languages that specializes in Interactive Fiction projects.
We're learning a lot of other things as well. We started the School for Heroes design process by talking about what worked best in the Quest for Glory series and which story lines we should continue from the online How To Be A Hero school. We also talked about what we like and dislike about other works of Interactive Fiction. (Here's a hint – For us, it's all about the characters. Arbitrary puzzles and frustrating mazes are so Last Century.)
To Perpetuate the plethora of P's that plague this series of paragraphs, we will pontificate further…
Play
Playing games has been an essential part of our lives, whether it is the old fashioned AD&D style of role-playing where you create and develop your character's personality, or World of Warcraft, where the game play is mostly all goal-driven rather than role-playing. What we want to do is take what we enjoy most of other genres of games, and then push the boundaries of game play for Interactive Fiction. After all, the Play's the thing….
Prose
One thing that we will be doing more of than most Interactive Fiction games is writing. We're taking the concept that this is Fiction literally. The School for Heroes is just that… a school. You get to play a student and go to classes. The teachers try to teach you things. Unlike lessons in the mundane schools we were forced to go to, the lessons from School for Heroes have practical application (at least in terms of the game… but who knows, you might learn a few things that work for you in real life.) All this means is that there will be a fair amount of reading and writing to this game. You do the reading, Lori'll do the writing, and we can stick Corey with the 'rithematic. Somebody's got to do the math.
Phun
Okay, so we have a school… and there's going to be learning… and reading and writing… so where's the phun? I mean, if a game isn't enjoyable to play, what's the point?
This is the tricky part. This is what game design is really about – creating a game that is enjoyable to play. We've given entire lectures at game design conferences on the Phun Phactor (only we spelled better then). Part of what we will be discussing in this blog over the next few months is what makes a game phun, and how we will create a game that will be challenging, thought-provoking, phunny, and phun.
So, thank you for your interest in our game and our writing. We're opening up the doors to this School for Game Design, and you are officially a part of it now. While we are developing the School for Heroes, we will take a few moments each week to let you know how things are going and to share our Philosophies and ideas about games and game design. Find yourself a seat in this classroom – School is now in session.
Similar Posts:
Tags: Game Design, Interactive Fiction, School for Heroes

Share on Twitter