Bards have a unique role in the School for Heroes. They tend to be outgoing, creative, and expressive. They preserve our tales for posterity and let the worlds hear of them today.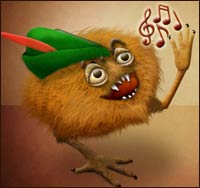 Traditionally, Bards – also known as minstrels, troubadours – carried news from town to town and kept history alive by memorizing traditional stories. Others created original works of performance art to entertain their audiences in the days before books, TV and the Web.
Famous historical Bards included Taliesin, O'Carolan, and of course "The Bard", William Shakespeare. They're famous partially because some of their work was written down and actually survived into the present. It also helps that their work was very, very good.
What is a Bard to me? Here's Corey's story.
I grew up in the 60's listening to the music of The Beatles and Herman's Hermits. By the late 60's, the "conflict" (it had not officially been declared as a "war") in Viet Nam was in full swing. Music – a blend of folk and rock-and-roll – was at the heart of the protest movement.
I discovered folk music when my mother took an adult school class taught by George Britton, a co-founder of the Philadelphia Folk Song Society. I started by helping her learn to tune, then discovered I really enjoyed playing the simple chords and singing along. I wasn't very good, but the music touched my soul, and that was what mattered. My older brother, Barry, and I discovered a local coffee house and spent every Saturday night there listening to the singers and helping out.
Barry went on to become the folk music DJ at the University of Wisconsin radio station. I collected song books by Peter, Paul, and Mary, Joan Baez, Judy Collins, Bob Dylan, and others. I joined the Vancouver Folk Song Society and learned how much more powerful the songs become when you sing them in a circle with everyone around you.
From Folk to Filk
A few years later, when I attended my first science fiction convention in Los Angeles, a young woman named Karen Willson sat in the lobby and sang her wonderful original song, "Ship Without Sails." That was my first introduction to filk singing – the scifi/fantasy version of folk singing. The songs at a filk are based on Fantasy, Science Fiction stories, NASA, mythology, D&D games, and anything else people want to sing about. (Supposedly the word "filk" was coined when the editor of a mimeographed fanzine mistyped "folk" and the variation stuck.) Karen now runs a great Web site for girls, A Girl's World.
Filk sings are also known as "Bardic Circles" and there's a reason. Everyone takes a turn to perform and tell stories through their music. I got my dusty guitar out of the closet and began to play along. Nobody cared about my limited skills – They were just glad to have someone accompanying the music to keep everyone more-or-less on key. Science fiction writers like Mercedes Lackey, Gordan Dickson, Larry Niven, and C.J. Cherry occasionally joined the filksinging. Mercedes Lackey wrote a few of the best songs.
After I met Lori, we started going to the filk sings together, and they became as much a reason to go to a convention as gaming. Sure, some of the singers were terrible, but the sense of belonging and fellowship, the music, and the funny stories made each session unique and fun. We even wrote some Filk songs ourselves such as "The Mage who Lost his Glasses" and "I'm a Retriever."
Around the time our son was born, filk music started becoming more professional and many singers were more interested in putting on a good performance than in connecting with the rest of the circle. The music got better, but filk lost a little of its heart. We moved out of the San Jose area and our priorities shifted away from filk music. We miss those good times, though.

The Music Man
The Washington Post did an interesting social experiment a couple of years ago. They arranged for Joshua Bell, a great classical violinist, to play six Bach pieces in a crowded Washington Metro station at rush hour on his $3.5 million Stradivarius violin.
A few people threw change into his violin case, most rushed by without even noticing. This is one of the world's great musicians; two days earlier he performed to a packed house in Boston at $100 a seat. But people were not expecting great music in the subway and didn't find time in their busy lives to listen.
Here's a great video about Joshua Bell's passion for music and – as we see it – what it means to be a Bard.
Being a Bard is about communicating – the message and the passion behind it. People were not prepared for Joshua Bell's message in the Metro, and so they missed a rare – and free – treat. We hope that the words and songs of our Bards will not be as lost in the world. As a start, the rest of us in the School need to make sure we listen.
The Bards in the Band
When the How to Be a Hero Correspondence School opened its doors to students from Earth, there were no Bards. We had Warriors, Paladins, Wizards, and Rogues. But after a few unfortunate incidents in the alleys of Silmaria, the school council decided that having Rogues in a school for heroes was a little too edgy. The Famous Adventurer had to make the difficult decision to close the School for Rogues. In its place, the School would teach Bards. After all, all Rogues have a bit of a class clown in them, no? So why not turn them into acceptable members of society by teaching them to become Bards?
At least, that was the Famous Adventurer's theory – before he heard some of the rogues sing. He began to think he had made an error in opening the School for Bards. Then came the first application from an actual Bard student. The difference between a true Bard and a pretend Bard is the difference between Joshua Bell's Stradivarius and a kazoo. Today, actual Bards are just as important a part of the School as any other class.
In The School, we don't require Bards to have magical ability… or even musical ability. What a Bard does need is the soul of a performer. They stand in front of an audience and tell stories or sing songs. They write poetry and prose or direct movies. Bards see deep into the human soul and find a way to touch the heart.
We look forward to hearing your stories and watching our Bards perform. We also hope they will invite us all to join their circles of music, magical tales, and wonderment. The Band of Bards is currently the smallest class in the school for heroes, but one of our most important. Our Bards will be the ones to spread the story of the school to the worlds… if we all share with them our own stories of heroism, learning, and fellowship.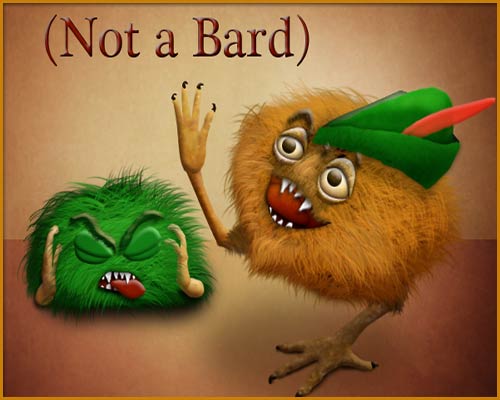 Similar Posts:
Tags: Bards, School for Heroes

Share on Twitter