Well, it's that time of year again when holidays abound. Christmas, Chanukah, Kwanzaa, Winter Solstice, New Year's Eve – There's a festive occasion for almost everyone. Each of these events is a celebration of ancient traditions. They represent rebirth, renewal, and hope for the future. It's a time for reconnecting with relatives and friends. It's time to count your blessings and make commitments for your future.
Celebrations at the Ranch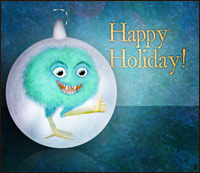 Here at the Flying Aardvark Ranch, we're enjoying our holiday season. Lori managed to get out for a day to get some nice photos of the season at Western Sierra Nursery and did some art for the FAR Studio website. Our son, Michael, is home from his work in Lompoc, California for a few days. Lori, after agonizing over Michael's low-carb diet, put off making the traditional sugar-loaded, fattening holiday cookies until now, and Corey apparently ate more than his share of them… but more likely the Evil Meep took a bunch just to make Corey look guilty.
Gifts were opened on Christmas Eve just as midnight came around because people couldn't wait for morning. Lori got a 'Pirates of the Caribbean" mug from Michael's recent trip to Disneyland. Corey got a "School for Heroes" denim shirt from Hero Bazaar. Michael got the "Persona 4" video game for the Playstation 2. It's an interesting role-playing game about developing your skills and interpersonal relationships as a kid at a High School in Japan who fights Shadows in a strange shadow world. The game play is varied and the mystery underlying the game is intriguing. It's a great game for anyone who likes heroic games.
Singing for Supper
We sing in a local choral group – Corey's a tenor and Lori a first soprano – and for the holidays, we did a Christmas concert and caroling at a couple of events. We enjoy learning the harmonies and singing with the group. We sometimes have a little trouble with the better-known songs because we know too many parody versions. "Carol of the Bells" reminds us of Oxhorn's World of Warcraft machinima version, "Hark, Hear the Wails". Corey can't hear "Chestnuts Roasting on an Open Fire" without thinking of the Star Wars parody version – "They know that Obiwan is on his way, carrying daddy's light saber home on his sleigh." But we manage to fight through it and usually sing the correct lyrics.
We had a little Winter excitement two weeks ago as a result of choral singing. The group had been hired by Tenaya Lodge, a wonderful local resort hotel about 25 miles up in the Sierra Mountains, to carol in their lobby. As we started up the hill towards Yosemite Park, snow began to fall gently all around. Having neither chains nor 4-wheel drive, we decided it would be incredibly stupid to keep going. So of course we did anyway. The concert was lovely – we sang in the foyer by the huge Christmas Tree and the blazing fireplace. Then, afterwards, we followed the snow plows back down the mountain through several inches of snow. We drove really, really slowly and had no luckily had no mishaps.
Last Sunday was the holiday concert. We were raising money to fund a free meal program. However, it was still a fun concert and everyone sounded very good… even when people got a little creative with their parts.

Afterwards, we had supper at a local Mexican restaurant and the waitress insisted we sing some carols with her. A patron at the next table also threw in a special request. That and a Mastercard were enough to pay the dinner bill.
No School Break
Despite the busy time, we keep working on The School for Heroes. Lori makes sure the teachers get all of the assignments and then she posts the results. She creates art for the blogs and the website. Corey fixes bugs and adds features to the site code. The latest – Assignments are now broken down by level to make it easier to find current ones. You can now edit your "avatar" icon and tag line on your personal page. Honor awards for "charter students" (anyone who completed at least the first "mission" in 2008) and special awards for exceptional submissions now appear on the Personal Page as well. We will soon add school-wide assignments, available to everyone in the school. Corey is also gradually adding higher-level assignments as we work out which ones from the previous incarnation of the school still make sense four years later.
A Time for Reflection
This end-of-the-year holiday season is a great time for reflection and commitment. We tend to scoff at New Year's Resolutions, but you know, if you really want to be a hero, think about taking them seriously this year. Pick two or three big changes you would like to make in your life and commit to them. If you say them as New Year's Resolutions and repeat them several times during the day, you can begin your commitment. Repeat your resolutions to yourself each morning in front of a mirror and you will be amazed at what you can accomplish this coming year.
What is a New Year's Resolution, Hero style? For Warriors, it's a powerful commitment to definitive action. To a Wizard, it's a form of Lesser Magic by which you turn dreams into reality. For a Paladin, it's an opportunity to commit to helping others and doing good. Bards can use their resolutions as a rehearsal for the deeds of renown they will be performing throughout the year. And for the Rogues – Well, let's just say that planning ahead is essential to succeeding in whatever wild plans you may have in 2009. And repetition of the goals and the plan are a great way to make sure you stay true to your goals under pressure when you are challenged.
We look forward to growing together with all of you in 2009. It's a time for change, and we can work together to make those changes positive ones.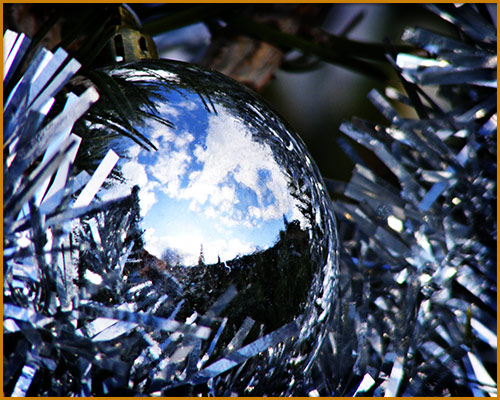 Similar Posts:
Tags: School for Heroes

Share on Twitter