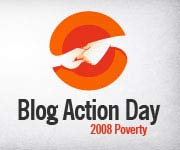 Okay, all you wannabe Heroes – this is your call to action.
Today, around the world, more than 9 thousand people are writing on the internet about working together to solve the issues of poverty. Since this school is dedicated to promoting heroism, we are joining Blog Action Day to put our ideals into actions.
Like all things heroic, it doesn't have to take much effort on our parts to make a difference when it comes to poverty. All of our old clothes and appliances are donated to charity. We give extra food to the food banks. Corey donates blood regularly, and just last week, I joined him. I put aside my squeamishness and the fact I have small veins so it requires more effort for the nurse to babysit me, but I survived the process. We also give money when we can to those environmental causes that deal with people as well as animals.
Unfortunately, these acts are a little like putting a bandage on a gaping wound. They don't really solve the issues of poverty. Even with a used coat and blanket, a homeless person shivers at night as winter approaches. The real bases of poverty are unemployment and the inability to find a way to get enough food and adequate shelter.
Commitment to Creating a Cure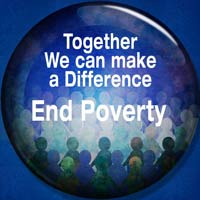 What will it take to find a solution to the poverty problem? First of all, it will take Commitment. We can't ignore the problem and hope poverty just goes away. Poverty is a reason why endangered species of animals in Africa are being poached. Poverty is a reason why the rainforests are being devastated daily. Poverty is a reason why children are dying around the world.
We all need to look at the issues and causes of poverty and seriously address what we can do. Then, above all, we need to Do Something!
Lighting the Way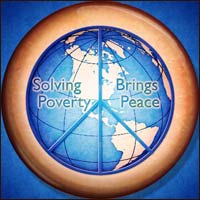 We believe strongly in the power of education – after all, this is a school. Education takes many forms. From the "One Laptop per Child", whose goal is to provide children around the world with new opportunities and ways to think, to Habitat for Humanity, where people actually learn how to build their own home with the help of volunteers, there are many ways education can change the world.
Poverty won't be solved by trying to teach starving people how to read and write – but it can be solved by teaching them hope and empowering them to change their own lives.
A Real Hero
One of our fans of the Quest for Glory computer game series is an active force working against poverty by empowerment, education, and economics. Pam is a wonderful artist who lives in Thailand. She and her sister went up to the hills and poor villages in her country to teach the craft of jewelry-making. She helped people there sell their art over the Internet. She makes a real difference in the world – sharing her time and sharing the beauty of her art.
Putting Words into Actions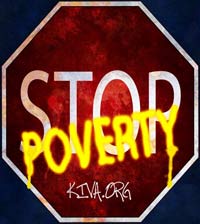 In addition to our participation in Blog Action Day by blogging, I entered PSDTuts contest to create a button design to publicize and promote "Solving Poverty." PSDTuts is the best site I've found for tutorials on Photoshop – much of the style of the School comes from what I have learned there – so I wanted to support their cause. For another thing, I really wanted to do more than just write about Solving Poverty – I wanted to do something about it. PSDTuts and its sister site, Vectortuts, which had a contest to design a t-shirt, offered over $1000 worth of prize money to the best designs. However, the prize money doesn't go to the winners. It goes to Kiva.org in the designer's names.
Kiva offers loans to people who need money to start businesses all over the world. The money goes directly to individuals who are actively working to make their lives better. This isn't a charity – the people are expected to pay back the loan once they earn enough money to do so. It gives a hand to people who otherwise would not have a chance to get a loan from conventional methods. This doesn't just benefit the borrowers. They create businesses and employ other impoverished people. This helps raise the standard of living for many people in their area. Kiva borrowers pay back 90% of their loans, an astonishingly high ratio considering that startup businesses in the U.S. are 90% likely to fail.
One of my designs – the "Give a little, Help a LOT" button – came in as a runner-up design. It will be for sale on PSDTut's Cafe Press website along with all the other winners. So if you would like to own a "Lori Ann Cole" original art design button, or just support and promote the cause, check out the site and buy a button or a shirt there. All the profits will be passed along to Kiva.org.
Solving Poverty – We will find a Way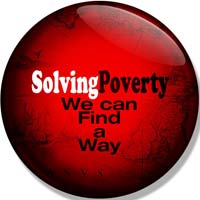 I ask each of you to take a moment to be a true hero and help find a solution to poverty. What will you do to end Poverty? Add your voice to this cause and comment upon this article. Do you know of a charity who addresses this problem? Perhaps you know another true hero who is making a difference in the world. Share your thoughts and inspire others to take part in this discussion. It's a call to action for all of us.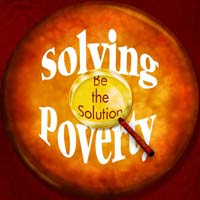 ---
Similar Posts:
Tags: Blog Action Day

Share on Twitter