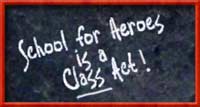 I suppose that it's a bit of an exaggeration to call this the "Class of the Titans," but the Golden School is that "he who has the gold runs the school." So we'll class-ify ourselves as above average, and school ourselves to get back to the subject at hand – the Making of the "School for Heroes."
Over the past few weeks, Lori has been working feverishly on creating www.TheSchoolForHeroes.com web site. She's using the "grunge look" so that there is a lot of background detail behind everything on the page. Besides looking cool, this will give us the opportunity to sneak some hidden puzzles into the site. Meanwhile, Corey is creating an interactive "What kind of hero are you?" quiz to help our players/members decide on the character classes that best fit them for the school.
"Character class" is an old role-playing term, but it has a double-meaning when we're talking about a school for heroes. The game characters will be assigned to a "class" such as Warrior, Wizard, or Paladin, then will take classes in that subject. Instead of just puzzles, we'll have class assignments. Of course, the classes and assignments are all about fun, not busy-work!
Did you ever have one special teacher who really made you enjoy a class in school? That teacher probably gave you unusual assignments that really made you think about the subject material. One of Corey's favorite teachers was Mr. Cross, an 8th grade math teacher. One day, when he saw that Corey was a little bored with the standard material, Mr. Cross asked him to stay a few minutes after class. Pulling out a College workbook on probability theory, he told Corey, "You might find this interesting." A lifelong fascination with probability and chance began that day. By the way, Corey highly recommends "Lady Luck" by Warren Weaver if you're interested in the subject.
Lori had a great high school English teacher, Mrs. Eades. This was the first time Lori really felt special in a class. Mrs. Eades went out of her way to encourage the talented students and make the class fun for them. Lori was inspired to continue studies in creative writing in College and to become a schoolteacher. Without Mrs. Eades's encouragement, Lori might never have become a professional game writer.
The School for Heroes is full of special teachers for exceptional students. Everyone has the chance to show that they are heroes inside, and the teachers recognize and encourage this. They will go out of their way to make all of the classes fun, to create unique and challenging assignments, and to mold their students into true heroes. Have you done your Wizard homework lately? One of your assignments might be to search the school for hidden messages that can only be revealed by use of the Sense Magic spell you learned in the last class session. Of course it gets even more fun when you discover that not all of the secret messages out there were placed by your teacher. There are many secrets to discover in the School for Heroes.
So that's what The School for Heroes is all about – a place where the true heroes live, laugh, love, and learn in an exciting, challenging, and above all fun environment. We hope to see you there with the other great heroes! We'll be sure to send you to the head of the class.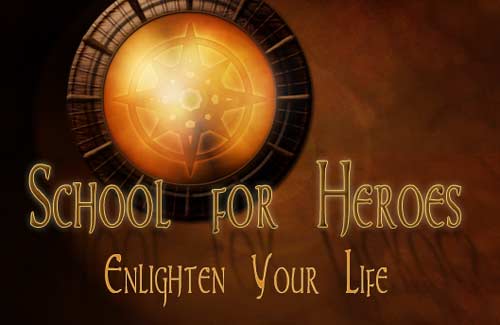 Similar Posts:
Tags: Game Design, Humor, School for Heroes

Share on Twitter