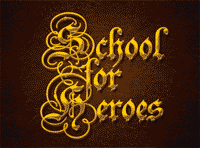 One of the big buzz-phrases these days has been "Web 2.0". According to Wikipedia, "Web 2.0 is a term describing the trend in the use of World Wide Web technology and web design that aims to enhance creativity, information sharing, and, most notably, collaboration among users." It's all about involving users in the Web site experience, letting each person enhance the experience for others (and for themselves).
We think the time has now come for "IF 2.0." School for Heroes will be more than just an interactive story or an adventure game. We want to build an ongoing relationship and community experience between the players and with us. To accomplish this, we are creating a School for Heroes community web site in parallel with developing the IF adventure.
What will you find on the S4H network? We'll have forums where you can discuss game strategies, learn secrets, and role-play with other "students". We'll have articles on heroism in real life. You'll find maps, hints, and news about upcoming games and extensions to the School for Heroes game. And, of course, Lori and Corey will patrol regularly to answer your questions and participate in the role-playing and discussions.
Why are we doing all this? We've never been satisfied to turn out "just a game." Every one of our games "plays" on multiple levels including the story, the game play, expressing our life philosophies, and maybe even teaching something. For us, creating each game is a rite of passage into a new way of expressing and sharing ourselves. We also hope that when you find a home in the School for Heroes, you'll want your friends to share in the experience too. With you spreading the word, everyone benefits – We get to keep making games, you get to keep having new games and Web content to play, and we all grow by doing things together?
Sound idyllic? Maybe a little naïve and unrealistic? Well, that's the brave new world of Interactive Fiction 2.0, Corey and Lori Cole style. Let's see if we can all make it real together!
Similar Posts:
Tags: Game Design, Interactive Fiction

Share on Twitter