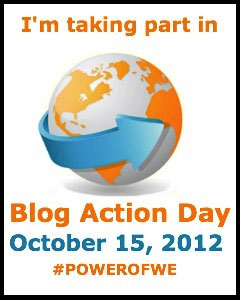 Today, Monday, October 15, 2012, is Blog Action Day. (#powerofwe and #BAD12 ) This year the topic is "The Power of We", an idea that is an important part of Lori's and my beliefs. In fact, just two months ago I posted Power To the People – Changing the Game on exactly this subject.
That article focused on Kickstarter, Indiegogo, and other crowdfunding sites. People who felt they had little voice can now make themselves heard by supporting projects they care about.
This time, I want to follow up by writing about our favorite topic – Heroes – from the "power of we" viewpoint. We tend to think of Heroes as remote – Superman or Batman, isolated forces for good. Or maybe someone like a soldier who rescues a comrade, or a fireman rushing into the collapsing World Trade Center. The Heroes are all out there somewhere while we sit at home watching or reading about their exploits.
Not Alone
But wait a minute. How alone are those Heroes, anyway? Superman is pretty unique – He was sent to Earth from Krypton as a baby, and somehow being under our yellow sun gave him superpowers. But did he fight evil alone? Hardly. First he was saved from Krypton by his father and other scientists. Were they not the real Heroes, sacrificing their lives for the sake of one baby? Why didn't one of them get in the rocket instead?
And down on Earth, that superbaby was found and cared for by Martha and Jonathan Kent. They made many sacrifices to survive an as-yet morally ambiguous baby who kept knocking holes in the wall and endangering everyone around him. More importantly, they taught young Clark Kent ethical and moral principles that guided the rest of his life. I'd argue that the Kents were the real superheroes in those stories! Superman was the tool forged by them to fight evil.
Those soldiers and firemen I mentioned? Do you really think they work alone? Sure, in their moment of reported glory, each of them went above and beyond the call of duty. But before that, they committed to duty, learned to work as a team, trained with their fellows, and at every stage received equipment, money, and support from their organization. Soldiers fight as a team or they die alone. Firemen specialize – Some running hoses, others climbing ladders, some running into buildings to rescue trapped people. Without the whole team, an individual fireman is (ahem) toast.
Batman mostly works as a loner… If you don't count Robin, and Alfred, and Commissioner Gordon. Or the inherited wealth he uses to support his profligate crime-fighting lifestyle.
We Can All Be Heroes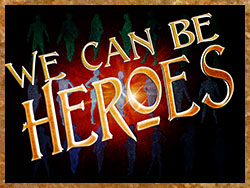 But at the same time, one of the strengths of the Batman legend is that he does not have superpowers. He started out as an ordinary person and – with a lot of help from his friends – forged himself into a Hero. We would all like to believe that, if we work hard enough, we can be Heroes too.
And we can!
Where do soldiers, firemen, policemen, philanthropists, charity volunteers, and other real-life heroes come from? They all start out as ordinary people – some rich, some poor, most middle-class – and they commit to higher goals. They set their sights on noble goals, join a team, and work their tails off to gain the skills they need to succeed.
You and I and each of us can do the same. It takes commitment, follow-through, and the "power of we".
A World of Heroes
Imagine a world full of heroes. It starts out as one or two individuals saying, "Things aren't right. Someone should do something about that. I guess it's up to me."
Then they get together and realize that two people working together can accomplish more than two individuals alone. So they talk to others and share what they've learned. Pretty soon, someone else stands up and say, "You know, if they could do it, maybe so can I." And then there are three.
And four. And a dozen. Slowly the word spreads, and more people join the cause. They aren't all Heroes at first, but when they commit to doing good, they've taken the first step to becoming Heroes themselves.
And maybe you and I read, and listen, and say, "These people need help. How can they take on all the world's troubles themselves?" And each of us has a choice – We can sit back, and keep complaining, and do nothing. Or we can take those first small steps ourselves. We can commit to joining the movement, doing Good whenever we can, and working towards becoming Heroes ourselves.
Because there is no Superman, or Batman, in our world. And there's only one Chuck Norris. But there are a lot of ordinary people working to do good deeds, one small task at a time. Every time someone does Good – even it's not a big, scary, Heroic action – it makes our world a little better.
The Power of We
Every time *you* do good, you make the world *and yourself* a little better. You become part of the hidden team, the people who care, the people who would rather be Heroes than lie back and ignore the evil around them.
That's what "the power of We" is all about. A whole lot of people who take a stand and strive to do things that matter… That can be the difference from a world that suffocates under its own pollution, starves to death because it has exhausted its natural resources, or lives in fear under the iron hand of despotic rulers. We won't stand for that world; we can't allow it.
And that means we all – each one of us as individuals and many of us working together – must become Heroes. The world needs more Heroes, and if you and I do not heed the call, who will answer for us? It's up to us and the Power of We.

Similar Posts:
Tags: #BAD12, #powerofwe, Blog Action Day, Heroism, Power of We

Share on Twitter