Two days ago, AGDInteractive released the full-color, completely re-coded version of Quest for Glory II: Trial by Fire. After eight years of development, they have a right to celebrate right now. They got to experience all the wonders of the 'Endless Sisyphean Nightmare Warren' and they didn't even get paid to do so! This was a labor of love, and they offer it free to everyone who wants to experience or remember this classic Adventure-Role-playing game.

Once upon a time many, many moons ago, when we were young and innocent, Corey and I designed and developed Trial by Fire for Sierra On-Line. Fresh with the success of "So You Want to Be a Hero," we were ready to take our players to a new world of role-playing. We wanted to created a fantasy game based on the Arabian Nights tales. It would have all of the tropes and archetypes of the Persian stories and a strong elemental theme of Summer and fire. We subtitled it, "Trial by Fire." We had no idea the name would be prophetic.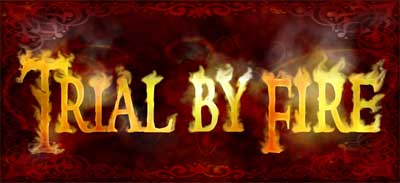 Fast-forward ten years. A group of Sierra adventure game fans calling themselves the "Anonymous Game Developers" decided that perhaps they could do what Sierra had chosen not to do. They decided to use an open-source adventure game development system to recreate a few of the classic 16-color Sierra games – starting with King's Quest 1 and 2 – with 256-color VGA graphics. Quest for Glory 2: Trial by Fire was next on their list and they started in on the project with great energy in 2001. After several iterations and a long journey through the Sisyphean nightmare warren of game development, AGDI has now (August 2008) released the finished product. You can read more about the history of QG2 VGA on the AGDI web site.
Amazingly, the AGDI team was able to get a limited license from Sierra allowing them to distribute the game with its original name and characters as long as they give it away free and nobody distributes it for a profit. Knowing how much work went into the Quest for Glory 1 VGA conversion, our hats are off to this incredible team for creating QG2 VGA as a labor of love. Incidentally, we had no say on the license, since Sierra/Vivendi owns all the rights to our games, but we are fully behind the AGDI team and the QG2 VGA project.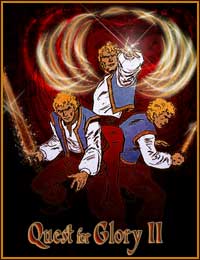 So how is the game? Well, actually, it's so new, we haven't played much of it yet. Corey has spent a few hours trying out the thief and fighter characters. The 256-color graphics are beautiful, although you will find them much different from today's 3D graphics environments. The game play seems very faithful to the original with several new features. AGDI adapted the menu and point-and-click systems from Quest for Glory 3 to give Trial by Fire much the same feel. They also give you a choice of a fully menu-based conversation system, the original parsed system (type in the keyword about which you want to ask), or a hybrid system that allows both options. I really like the hybrid system as it allows me to skip directly to a particular topic without having to follow the menus.
I found inventory use a little cumbersome at first, although that's probably mostly because I didn't remember how we did in in Quest for Glory 3! You use the hidden menu to access your inventory and select an item. The right mouse button toggles between possible actions (walk, use or attack, talk, or the chosen inventory item), then clicking the left button on a person or object tries to apply that action.
Compared to today's no-brain interface (right-click on something to do whatever the game designer or programmer decided you should do with that person or object), it takes more thought and more time to take an action, but it also really opens up the user's choices. If you're lazy, you probably won't like it. Playing QG2 VGA reminded me that adventure games used to be much more complex and difficult than today's games.
By the way, Save your game early and often! Corey didn't and was pretty embarrassed when he died in his first combat and had no saved game to which to restore. There does not appear to be an automatic save feature in QG2 VGA, as there almost certainly was none in the original version. So far, Corey has been unable to defeat any enemy in combat. He managed to get a brigand down to 50% of his health before the main character succumbed. A serious arcade gamer might have an easier time with the combat, but this could be a problem in an adventure RPG. Perhaps AGDI will release a patch later with an "easy mode" combat option for gamers who were already mature when QG2 first appeared.
Not only did ADGI include many of the fun Easter Eggs of the game like the Silly clown option with Harpo Marx running down the alleyways, but they brought back the Saurus Repair Shop that had to be cut from the release version of the game because it wouldn't fit on the disk. I'm told they even added an Easter Egg or two. That just goes to show how much care and 'professionalism beyond the call of duty' ADGI has – they really went out of their way to add to the fun of the game.
Our recommendation: Visit AGDI's web site and download your free copy of Quest for Glory 2: Trial by Fire. Make sure you read the included documentation before you start the game so that you'll have an easier time with the interface and combat than Corey managed. Then let us and AGDI both know how you like the game… and if you love it, write to Vivendi and request they release a new edition of the rest of the Quest for Glory series. For some reason we can't quite comprehend, Vivendi has rereleased King's Quest, Space Quest, and Leisure Suit Larry, but has not repackaged the Quest for Glory series.
Two huge thumbs-up to AGDI for a fabulous piece of (an incredible amount of) work, the brand new Quest for Glory 2: Trial by Fire VGA remake!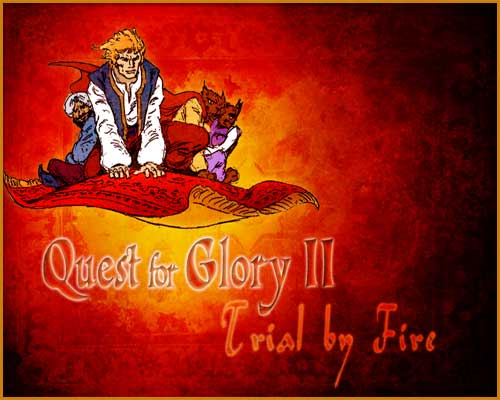 The Heroes and the Carpet illustrations were based off the original sketches from the Trial by Fire manual drawn by Ernie Chan.
Similar Posts:
Tags: Game Design, Quest for Glory

Share on Twitter