Eighteen people walk into a restaurant. They think they know what they are getting themselves into: weeks of too little sleep, grueling physical labor, cruel bullying, back-stabbing, and extreme embarrassment. All they have going for them is their own arrogance, confidence, strength, determination, ambition, and their cooking skills. They honestly believe that they have what it takes to impress Chef Gordon Ramsay.

Most of them are wrong.
Hell's Kitchen proves the adage, "If you can't stand the heat – Get out of the kitchen."
Staring into the Abyss
" If we had known what we were getting into, we would never have done it. Game development is an endless Sisyphean nightmare warren of terrible nightmares." – Jerry Holkins, Penny Arcade
Aspiring Game Designers are a lot like the contestants on Hell's Kitchen. They think they know about all the things that go wrong in making games, the sleep deprivation, the clueless marketing departments. They've played games that should have been great, but turned into foul-tasting messes. They think that they have the guts and the skill to overcome the game development nightmare and that they can do it better.
Most of them are wrong, too.
Back to the Kitchen
Corey and I have been through years of our lives crawling through the pit of Game Development. We know that it involves endless hours of overtime with no holidays or vacations. We have seen people crumble around us from the pressure of impossible deadlines. We have experienced the heartache of seeing our beautiful design butchered by inept artists and incompetent programmers. We know that Game Development is a devastating, ball-busting, soul-stealing, ego-shredding version of Hell's Kitchen.
So why would we even think of ever stepping foot back into that hellish warren?
Stepping up to the Hot Plate
We are much like those naïve fools who step into the kitchen in search of fame and fortune. We, too, are arrogant, confident, and overly-ambitious. The big difference between us and those wannabes is that we've been on the show before. We know just how rough it will be. We know that we are going to go dancing across fiery coals with a rose clenched in our teeth.
We have the confidence and experience to hack our way through corridors of monstrous mistakes, terrifyingly too-tight schedules, and horrendous hours sitting at our desks staring at the screen while we sweat blood.
Into the Fire
Why are we preparing to descend into the abyss? It's because we know that we can create a fun, challenging game that will meet high standards and expectations of our inner Dungeon Master Ramsay.
So are we ready to again step foot into Hell's Dungeon? Do we think that we will emerge victorious by cooking up a tasty game that you will savor?
Yes, Chef!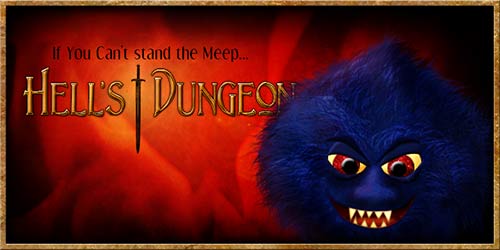 Similar Posts:
Tags: Game Design, Hell's Kitchen, Penny Arcade

Share on Twitter