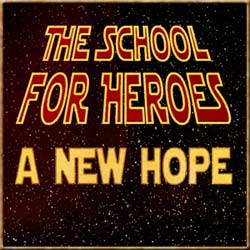 A long time ago, in a Zeitgeist far, far away, Lori Ann Cole and Mishell Baker opened the "How to Be a Hero" Web site. For the next three years, Lori worked tirelessly to promote the idea of being a fantasy Hero in real life. Then there came a great disturbance in the Force, and hundreds of voices cried out in agony, then were silenced.
But the Force of Heroism is not so easily defeated. Two years later, a new school rose up to defy the Empire of Greed, Evil, and Selfishness. Based on the Principles of Truth, Freedom, and above all Heroism, the School for Heroes rose up in the Fall of 2008 with a bold new mission.
Return of the Heroes
The new school for young Padawans – um, Heroes – strove to be fun, challenging, entertaining, interactive, inspiring, meaningful, and above all, a Force for Good in the world. We wanted it to be a game as well as a school.
Since the school opened, over 3,000 potential Heroes have taken the new Hero Test. More than 600 of those took the critical next step of completing the first Hero Mission to become Rank One Heroes-in-training.
But what of the school's Mission? How well did we achieve our lofty goals?
I think we can safely say we made the "game" of the school challenging enough. Just 74 students braved the challenges to advance to Rank Two or higher. Was the school too challenging? Or did the dropouts not find it as fun as they expected?
Seventy-four Heroes isn't bad. Rudyard Kipling wrote about "one man in a thousand", and Diogenes would have been happy to find a single honest man. Seventy-four trained Jedi would be a mighty Force to stand up against the Empire. But are they enough to justify the continued existence of the school and an ever more challenging job for its creators?
This is the split personality of the School for Heroes. It is a game, a school, a soapbox for our opinions, and a social site. But how well has it really succeeded at any of these? Maybe the time has come to find the school's real focus.
School Recess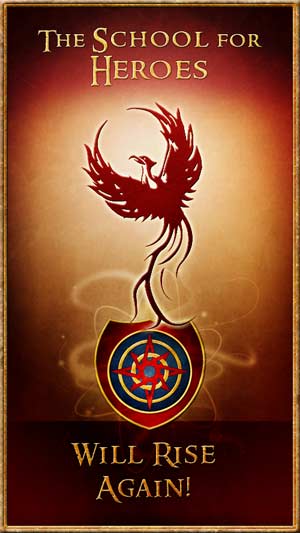 Our favorite saying is, "Rule #1 – The Game Must Be Fun." And that applies to the school as well. We think we have lost sight of that in the school in our quest to "educate" would-be heroes. Our goal with Castle of Dr. Brain and Mixed-Up Fairy Tales was stealth education – learning while having fun – and we want the school to work the same way.
Everyone has worked very hard for the last three years (and many of us, for three years before that at the previous school site). It is time for a recess while Lori and I reinvent the school.
We are not going away, but we are taking a break. We think we can make the school more like a game, and less like a job. We think we can find ways to integrate the social and the learning sides of the school. We also think we can change Lori's and my role from teachers to writers and designers. Our personal touch will still be there in our words and beliefs, but we don't need to give a personal response to every assignment.
For the school to succeed and grow, it needs to be able to scale… even to the extent of a Galaxy-wide Republic.
But we are already at the limit of what Lori and I can handle. The current School is not scalable. To succeed at making a big difference in the world, the School must become bigger than its founders.
The New Hope
For now, that unfortunately means that we have had to stop accepting new assignments. We simply do not have time to respond individually while developing the new version of the school. It will take a while.
But we promise you that we are committed to making the school even better, and above all, fun. The School for Heroes will rise again, a new hope for the current and next generation of Heroes.
In the meantime, never stop being a Hero. We have taught you a little, and you have learned much more on your own. Take those lessons and apply them to every aspect of your daily life. It is up to you to show the Galaxy what a few committed Heroes can do.
May the Force of Heroism be with you!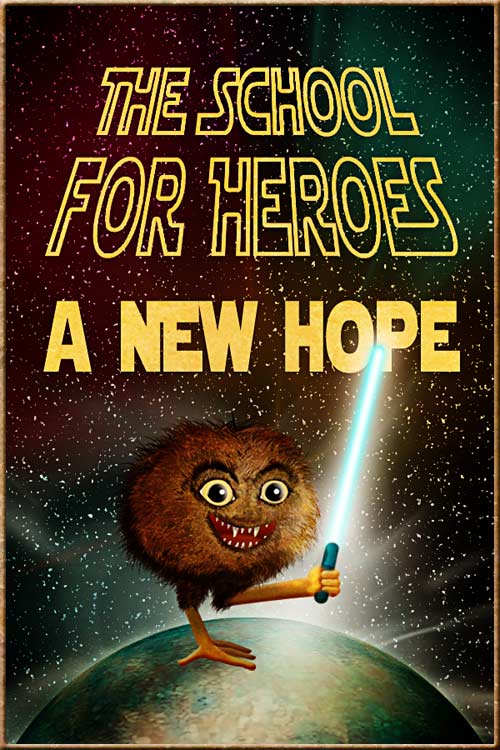 Similar Posts:

Share on Twitter