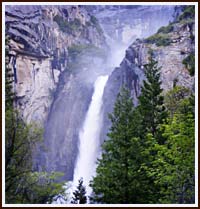 Yesterday we drove up to Yosemite National Park.
The waterfalls were amazing, full of power and beauty as the water flooded down glacial cliffs. Dogwoods were in bloom everywhere, and shy woodland creatures abounded.
As we were driving and brainstorming ideas for the School for Heroes interactive fiction game, a phrase popped into my head – "The three P's – Passion, Preparation, and Practice."
Passion
We are passionate about the School for Heroes. Lori ran the online version of the school for several years. She role-played the teachers as they assigned and graded challenges to the "students" in the four classes – Warriors, Wizards, Rogues, and Paladins. Running the School was a lot of work, but incredibly rewarding as she interacted with the students and participated in online role-playing with them.
Passion is essential to making a great game. When game developers are excited about their work, that feeling communicates itself to the players. When they are just "doing their jobs," , which results in a dull, flat-feeling game. We don't do games like that – if we don't love the game idea, we just don't make the game.
Preparation
Preparation is important too. School for Heroes is based on work we created during the four years that we ran the original online school for heroes. In addition, I chose not to begin implementation until we had brainstormed for about two months to work out the characters, story, and game interface. That is why our game won't be "just another text adventure" when it's done. We're trying to give you a true Interactive Experience with a story as deep and enjoyable as a novel, but where your actions really matter.
Practice
Practice makes Perfect, or so they say. We just wish it was that easy! It's hard work, but if we weren't willing to put in the time and effort, then we couldn't create great adventure stories. For example, I've spent the last month studying the Inform language and playing the best character-driven interactive fiction works. I did this to thoroughly understand the technology and techniques we will use to make a great IF game. We have a lot of revolutionary ideas on bringing stories to life through IF, but it takes practice, practice, practice before we're ready to Practice what we Preach.
---
As we prepared to leave Yosemite, pretty soon we were popping P's back and forth at each other. It's amazing how many words that start with the letter "P" are essential to building great games. There's the Past, the Present, Performance (in two senses), Production, Play, Pickiness, Persistence, Perfection, Puns, Platitudes, Punch, Possibility, Probability, Power, and so many others. (Not to mention Platypuses.)
Pardon me if I tend to pontificate, but pessimism has no place in producing a premier product. I just hope we'll do well in the postmortem.
As for the Q's, well, they're a Question and a Quest for another day. I don't want to compromise the Quality of this one by trying to do too much in one article. Until we meet again, mind your P's and Q's. You know we will!
Similar Posts:
Tags: Game Design, Interactive Fiction

Share on Twitter