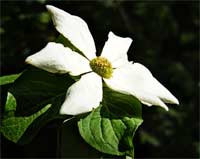 The nice thing about working for yourself is that you can work anywhere. The downside is that you are always working.
My trip with Corey to Yosemite National Park last Saturday was a working vacation. I am a photographic artist and this is the best time of year to see the falls of Yosemite Park. Yosemite Falls was marvelous. From the bridge near the bottom, the wind and the spray from the falls were more thrilling than the best amusement park ride. The sheer cliff walls dwarfed the huge pines. Nearby Half Dome (the symbol of Sierra On-Line many years ago) shown in the evening light.
So, in the midst of this panoramic landscape of glacier-hewn granite and rushing waters, what did I photograph the most? Dogwood flowers.
Yosemite Park attracts some of the finest photographers in the world. These people have the best equipment, the experience, and the passion to take the wonderful photos that show Yosemite to the world. They've been there and done that for years. My job is to reveal the beauty of Yosemite that they haven't shown.
That's our approach to designing this Interactive Fiction – to boldly go where no designer has gone before.
Past
Many, many moons ago, two eager and enthusiastic game lovers proposed a role-playing game to Sierra On-line. We'd never actually done a computer game before, but we had played a lot of them. We knew what we liked and what we didn't like about computer games. Role-Playing games were mostly 'kill the monster, get the treasure' experiences with no real story or characters. Adventure games were mostly puzzle-solving exercises covered with a thin veneer of story. We wanted to create a game with depth and meaning, excitement and true adventure. We wanted our games to feel like standing in the spray of the Yosemite Falls. Thus, we created the Adventure-role-playing Quest for Glory game series.
Present
Now, we are professional game designers with more than ten computer games to our credit. We've had years of experience honing our skills at story-telling, puzzle creation, and character development. So what type of game are we proudly prepared to pursue? – A text adventure.
You may be checking out the date on this blog right about now. "You're doing a text adventure? How last century!" But what we are actually designing is Interactive Fiction. It only looks like a text adventure just as Quest for Glory only looked like an Adventure game. We will create an Interactive Fiction game that has everything we love in games – challenge, excitement, emotion, and story.
Phuture
Over the next months, we will design and implement this "next-generation" Interactive Fiction game called "School for Heroes." We will also open the "Famous Adventurer's How to be a Hero" School website. Here you can learn more about the game, the story, and the world of Glorianna. We will also have a forum for you to discuss the game, roleplay being at the school, enter contests, and take classes about becoming a hero. You see, when we say we make Interactive Fiction, we mean it.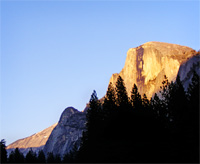 On our way back from Yosemite last weekend we spent the long, windy drive home discussing characters and puzzles for the School for Heroes. We figured out the backstory and character arc for one of our protagonists. This is the best part of working for yourself – you never have to leave your work behind you. It's your life.
Similar Posts:
Tags: Game Design, Interactive Fiction

Share on Twitter