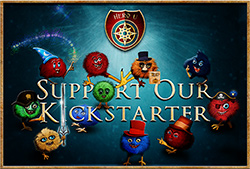 We're off and running with the first game based on The School for Heroes, Hero-U: Rogue to Redemption. In the first 24 hours, over 1200 of our generous fans got behind the project and pledged over $80,000. We are looking for a minimum goal of $400,000 to be able to develop and launch the full game. Please visit our Kickstarter page (linked above as the game title) and consider backing the project. Most importantly, tell your friends to visit us and spread the word.
Hero-U: Rogue to Redemption is the University-level version of the School for Heroes. Players will take on the role of Shawn O'Conner, a new student in the school. Yes, Hero-U has Rogues, not just Disbarred Bards. Shawn didn't exactly enroll in Hero-U. He was sent there after getting caught in a botched thieving operation. As Shawn, you get to decide whether you want to keep trying to be a Thief, or if you want to work a lot harder to become a Rogue Hero. You will also get a chance to unravel the mysteries of your past and determine the course of your future.
Game-play-wise, we are treating this as an RPG with adventure and puzzle game aspects. Of course, the story and characters are critical, but we also want this to be a true role-playing game experience. We are creating a new tactical combat system and using a map-like top-down 2D interface to facilitate use of tactics and strategy. We also plan to have beautiful painted backdrops for key conversations and other important scenes.
We hope you will like what we're doing as we move on to the next stage of the school's development. Please visit the project and share it with your friends.