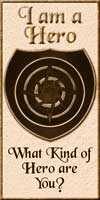 Famous Adventurer here. It is with great pleasure that I announce that we have already heard from more than a hundred potential heroes who heard the call and took the test! Many of those people are even now diligently engaged in performing their special mission so that they can prove that they are worth to enroll in the School for Heroes.
Until our colleagues who are enabling our communications system with Earth have the Assignments system in place, I encourage you all to report your mission by submitting your report directly to your instructor. This can be done by sending it by the "e" mail to the name of your class at theschoolforheroes.com. Your instructors are eagerly awaiting your applications.
We have just added a way for you to how the world who you truly are. Attached to your personal page is the "Badge of Honor." You will find the enchantment below it that allows you to actually display your badge on other websites. Let your friends see your true self by sharing this heroic symbol with them.
There are exciting new events happening here every week. Be sure to finish your mission and submit it to your teacher. You may well be the first person on the class roster!
I hope to see you all soon here at the school.