Famous Adventurer Here!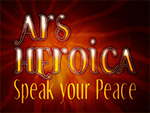 A brand new Ars Heroica magazine, full of edifying articles by the School for Heroes exceptional staff and students, will soon be winging its way to you courtesy the magic of the internet.

However, before it can do so, it will need a few more articles.
I encourage all of you to take some time and write an article for our magazine. Think of it as your opportunity to stand before us all and tell us what you believe in. It's your chance to give your opinion on justice, the fate of the universe, and how to end military conflicts. Think of it as your turn to speak your 'peace.'
Student Promotions
We now have several students who are climbing to new levels at our school. We are proud to announce that Schattenjager and Kahn have achieved the honorable rank of Knight Paladin. Our highest ranked student of all times is Marsdriver, who has now reached the rank of Coyote. In the Way of the Warrior, Corporal Nicholas is earning his promotions and will soon become the highest level of any Warrior. And in our Bard Class, Fingon is now a Showman. Congratulations to these enterprising educational athletes.
Tags: Ars Heroica, Promotions, School for Heroes